Want to see some of our sample sites to get a glimpse of what's possible?
3 THINGS TO LOOK OUT FOR WHEN CHOOSING A WEB DESIGNER FOR YOUR BUSINESS
#1 - Make sure you own the website AND can get access to the back-end or get an export of the website
Unfortunately, some unscrupulous web design and marketing companies will hold your website hostage if you try to leave their services or switch to another web design company.
They will refuse to give you access to the website, and may even claim that you don't own the website and can't use it if you switch companies. You are then forced to have someone redesign your website, either re-creating it to look the same or from scratch. Either way, it's a major headache and can cost you thousands of dollars.
The Runaround
What's worse, sometimes the company can get hung up in weeks and weeks worth of back and forth waiting for and asking for the website, only to eventually have to have to pay someone else to re-create the website for them.
Ideally, you always can get either access to the back-end of your website or the ability to get an export of the website. Additionally, ideally it's clear that you own the website.
#2 - Make sure you get a website that's FAST
In an interesting recent report that was an official report from Google, they hammered on the importance of speed on mobile (phones) for conversion. For example, the report said:
"53% of mobile site visits leave a page that takes longer than three seconds to load"
Additionally, they even trained a deep neural network with a large set of bounce and conversions data, with 90% prediction accuracy, which found:
"As page load time goes from one second to 10 seconds, the probability of a mobile site visitor bouncing increases 123%"
In short, speed matters for websites in terms of conversions, especially on mobile, and at this point about 50% or more of your traffic is likely to be on mobile.
So if your website is slow, you can lose money on potential calls, etc. from people leaving.
Ideally, your website loads very quickly, which your users will also love. Our websites are optimized for speed. Like this website, which loads in under 1 second!
#3 - Make sure your website is built by someone who knows how to rank on the search engines
Most websites are built without any thought of the search engines, which means that your website is extremely likely to struggle in terms of visibility on the search engines.
This means your potential customers can't find you easily, and you can miss out on tons of business.
Do you use Google? Isn't it likely that your potential customers will?
Many website designers will say that they know search engine optimization, but you likely want to ask them to show you proof of #1 rankings or at least page 1 rankings.
Ideally, they have multiple examples of rankings to show you that will make you feel confident in their ability to build the website in a way that search engines love.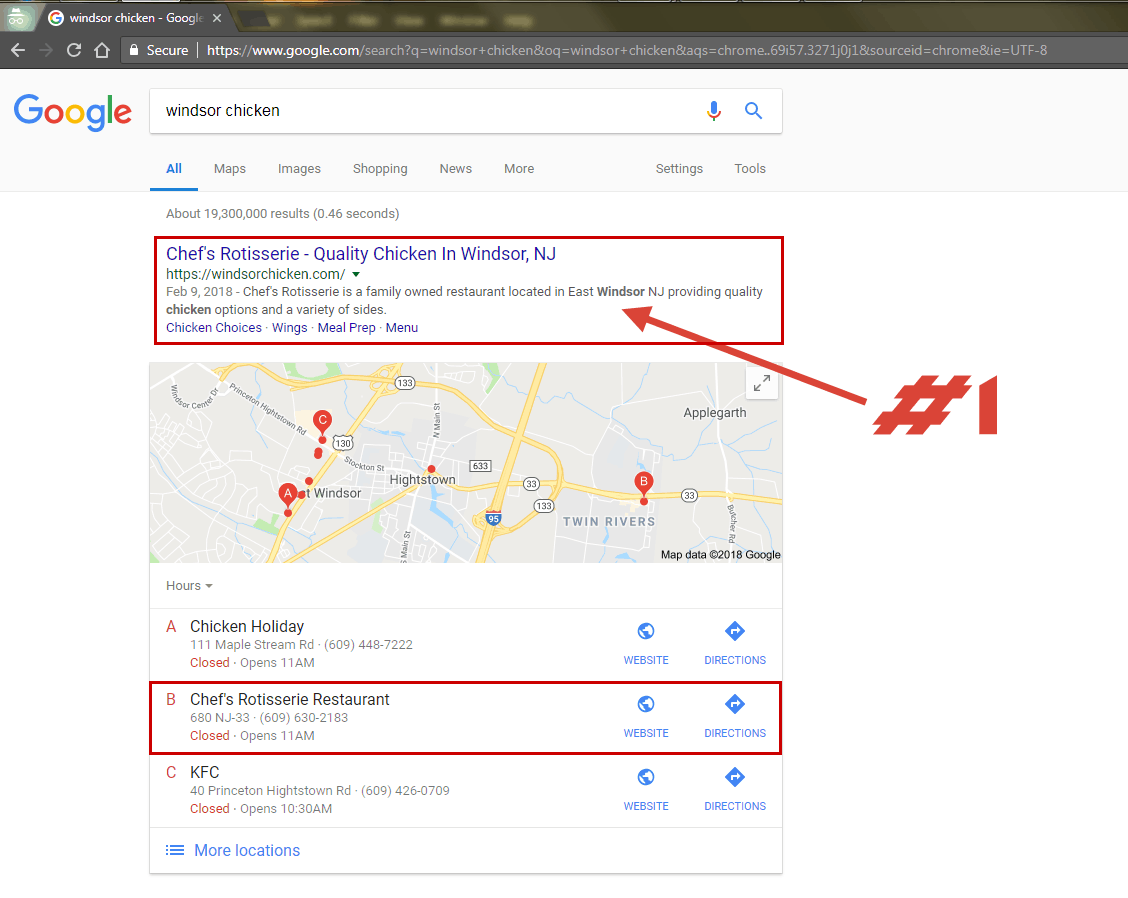 Example Results
Here's an example of a small family restaurant we helped which ranks #1 on the search engines for their main search phrase (or keyword) which is windsor chicken, aka [city] chicken.
They are also ranking above 2+ major chains in the same area, and are in the Google Maps pack, which is the three results you see towards the top.
We have other results that we can show as well, but anyhow.